About Carefree Catering
Carefree Catering is a full service catering operation that has been serving the St. Petersburg, Florida and Tampa Bay, Florida area since 1997. We use high-quality ingredients to serve gourmet catered cuisine at a lower cost than most of the expensive gourmet catering companies. Since the beginning, our food has always been baked, not fried.
Whether you are hosting a formal event, such as a wedding, dinner party, or corporate function, or a casual event such as a birthday party, picnic, or barbecue, Carefree Catering has an extensive menu to fit all types of functions for anywhere from 20 to 2000 guests. All menus are created to order, so if you do not see what you are looking for on our menu, please do not hesitate to ask.
Find Us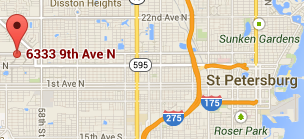 We provide our catering services to communities in and around the St. Petersburg-Tampa Bay metropolitan area. Our office is located at 6333 9th Avenue North, St. Petersburg, FL, 33710, about 4 miles west of I-275 and downtown St. Petersburg.
For more detailed information regarding menus, pricing, and location, or to book an event, please contact us on the phone at (727) 686-0134 or by email at sales@carefreecatering.net. We will get back to you as soon as possible. Thank you for considering Carefree Catering.